Episode 3
Filter Settings
Sort, Conditionals, Columns, Display Options, Etc
We will now explain all filter settings, this includes:
Conditions
Sorting
Dates
Counter Vs Labels
Columns Options
Private Vs. Public
Display on Index
Filter Display Options
No matter if you are creating a temporal filter or modifying a new filter you can choose conditions upon which you want data to be displayed. For example: I want to see all Policies that have the status "Expired" and are used in "ISO 27001". The filter settings window gives you conditionals for every field on the module and also allows you to search across modules by using the left panel.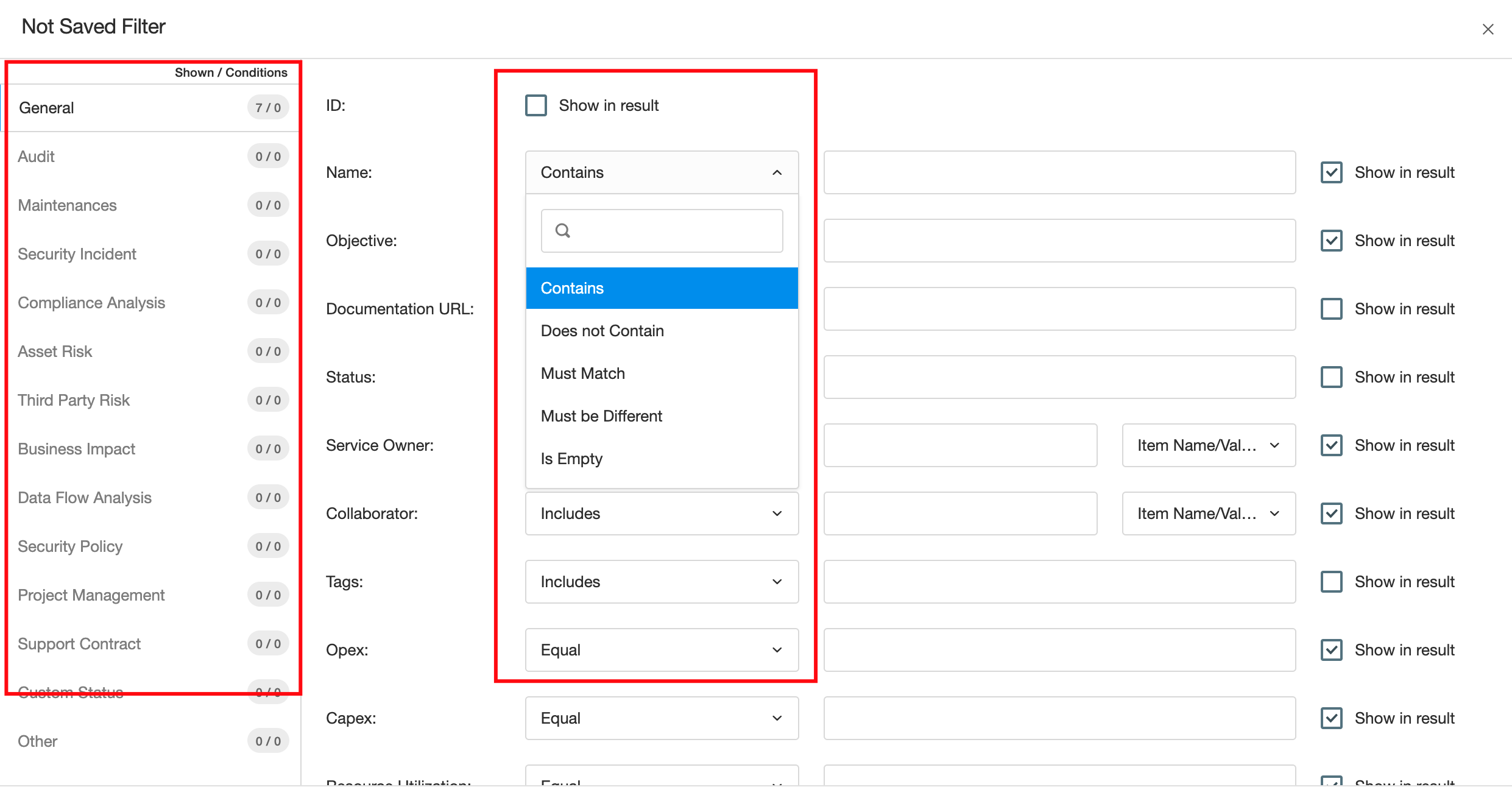 This gives you the opportunity to search in literally million different ways. If you used the custom fields and have created new fields, they will also be shown on the left panel.
You can sort the data shown on the filter, you can do this in two ways (and one has prevalence over the other). One way is on the filter settings, in the left panel use the sorting options.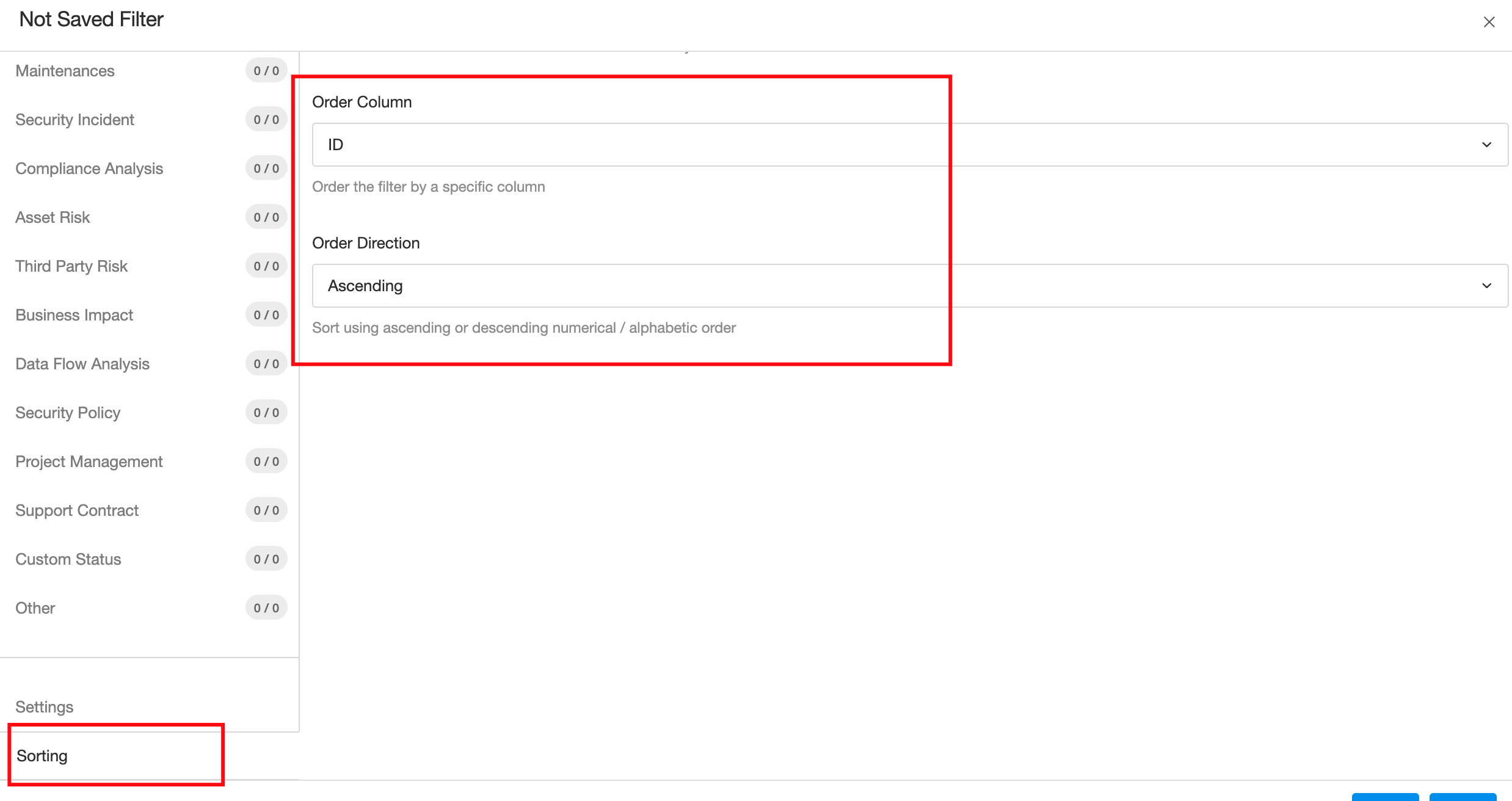 The other way is to sort once the filter has already executed on data is displayed. Every column will have the sorting option and this takes prevalence over the filter settings.

Seldom times you will need to search across dates. For Example: Give me all Audits in between 1st of Jan and 31st of Jan. Sometimes you will need a reference schedule (One week ago, Next Month, Etc) instead of an absolute date (1st of Jan, Etc).
If you want to use absolute dates then simply use the date picker provided on the field.

If you want to use reference schedules then you need to disable the date picker and then select the options available. 

To use the reference you will need to use a combination of the reference date:
+1, +10 means 1 or 10 days in the future considering "Today" the starting date. If today is 1st July and you select +10 then that means 10th of July.
-1, -10 works the same way but in the past.
Then you can cover different periods of time when you use the condition of the field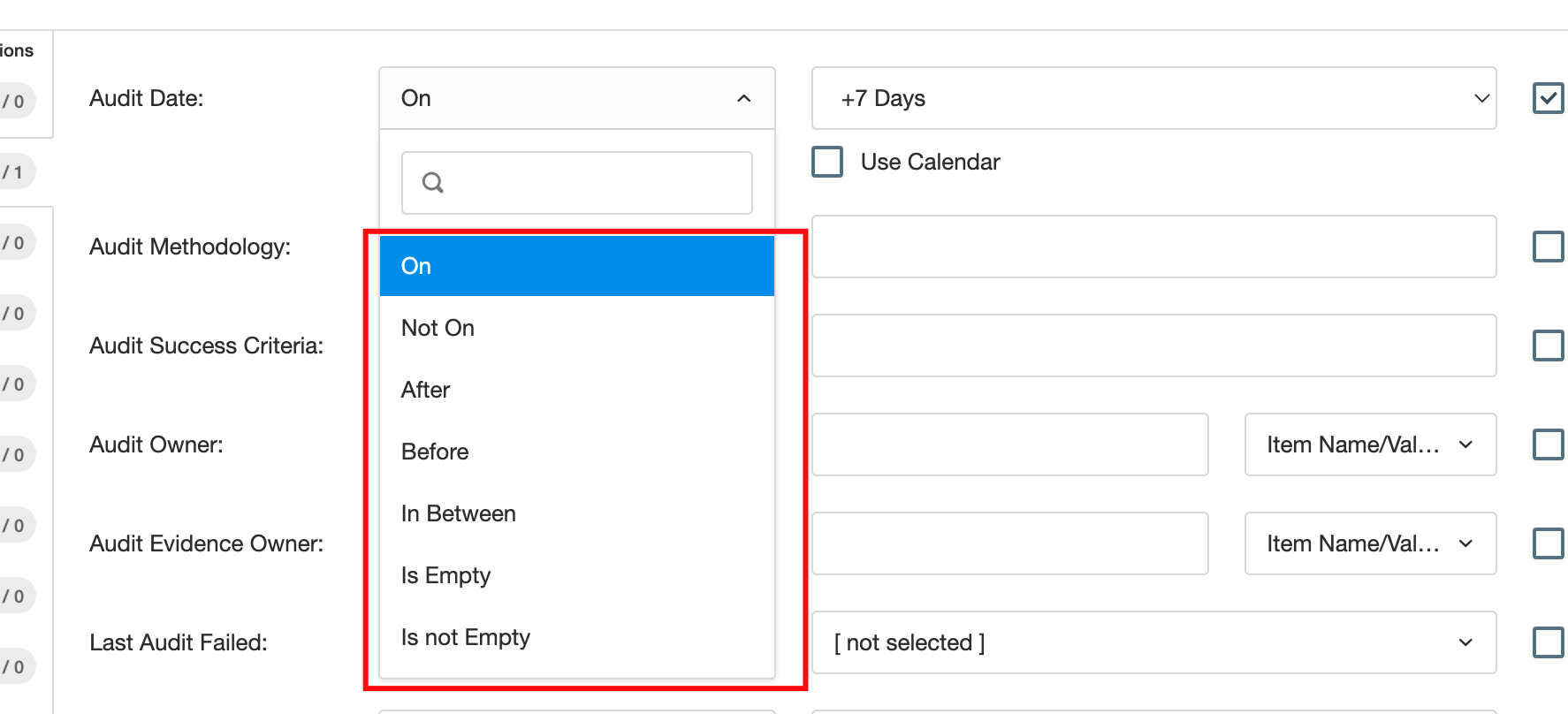 The logic works as follow, lets assume today is 10th of July and you select +1
On: means 11th of July
Not on: means any date except 11th of July
After: means all days after 11th of July
Before: this means all days in between 10th of July and 11th of July
If your selection would have been -1:
On: means 9th July
Not On: means any day except 9th July
After: means all days after 9th July until 10th of July
Before: means all days before 9th of July
Reference days are useful when using filters because you can configure them to say for example: Give me all Exceptions expiring in the next couple of weeks. You would setup as:
Condition: "Before"
Reference: +14
You can choose which columns to show once the filter runs, the less columns you display the quicker the system will respond. You can choose what columns are shown or not by selecting them on the filter.
Some columns will display "Labels" by default. For example if I'm in the control module and you choose to see "Policies" linked to the control you will select on the "Show on Results" the Policy item. Note the option to show counter or labels.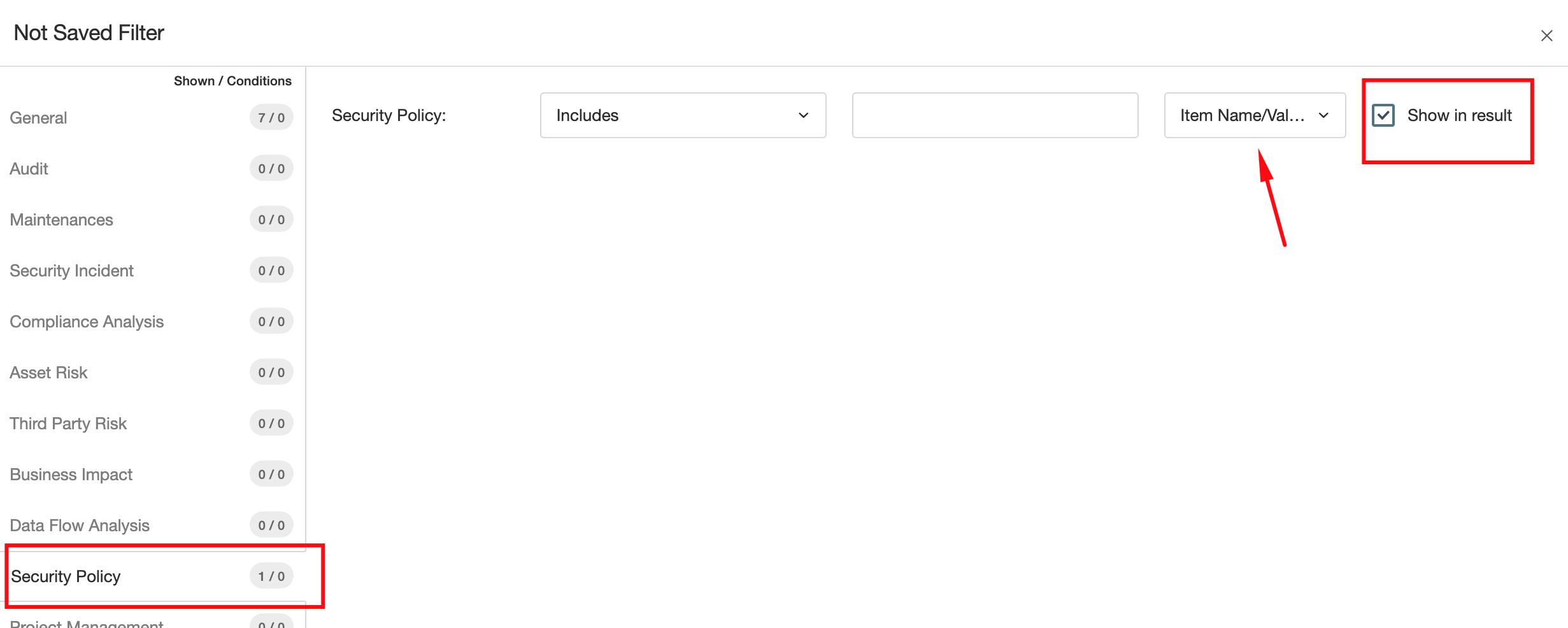 If you change the option Counter Vs Label you can choose to see the policies by name or as a counter: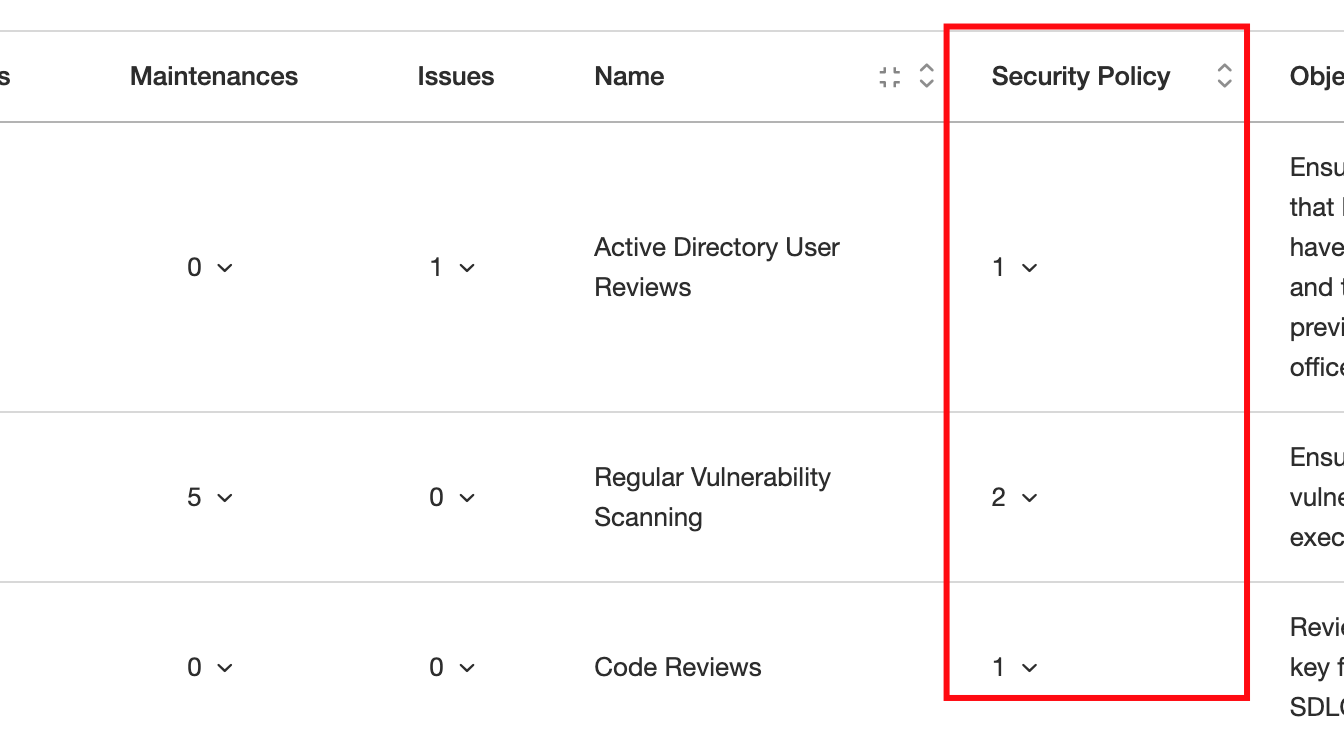 There are benefits in using the counter - if you have many labels your cell will become very large and the table wont look good and also the counter includes a shortcut you can click and you will be redirected to the section with an automatic filter that will only show those items.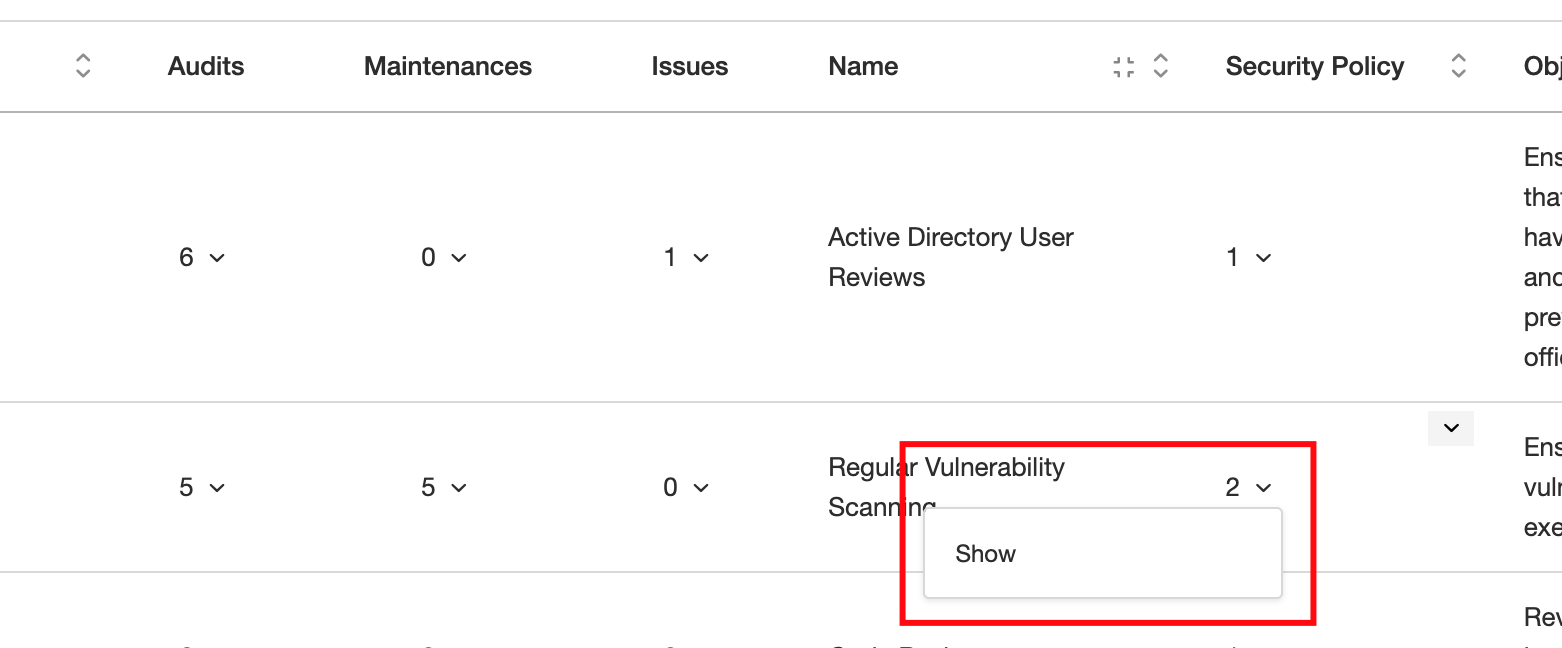 When you create a filter by default is a "Public" filter, anyone in eramba that has access to the section and to see filters will have your filters listed. You can make the filter private by going to "Settings" and making the filter "Private"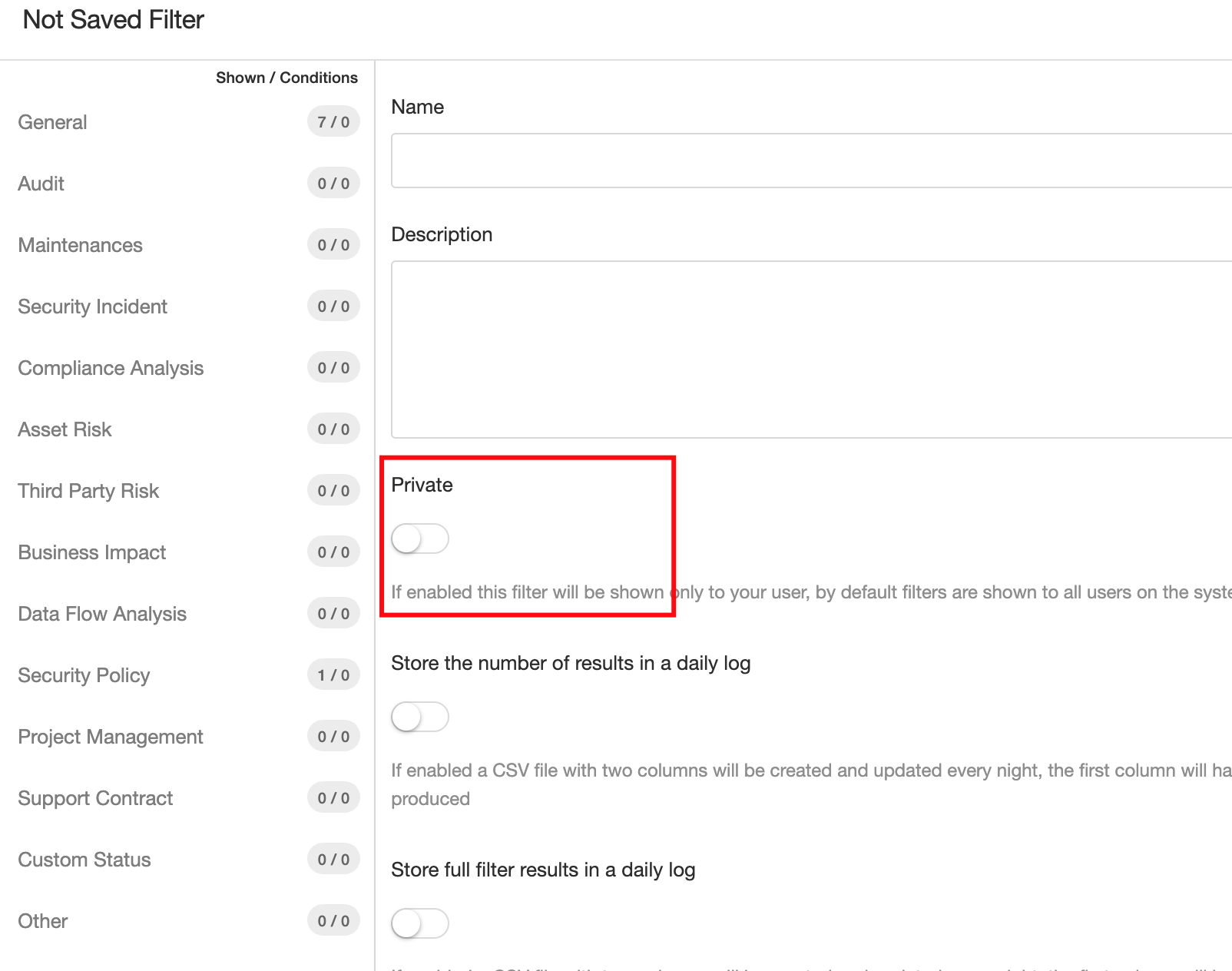 When users access a module eramba will by default load one or more filters that will show data to them. You can choose which filters to load by default by configuring under each filter the following parameter: "Settings" > "Default Index"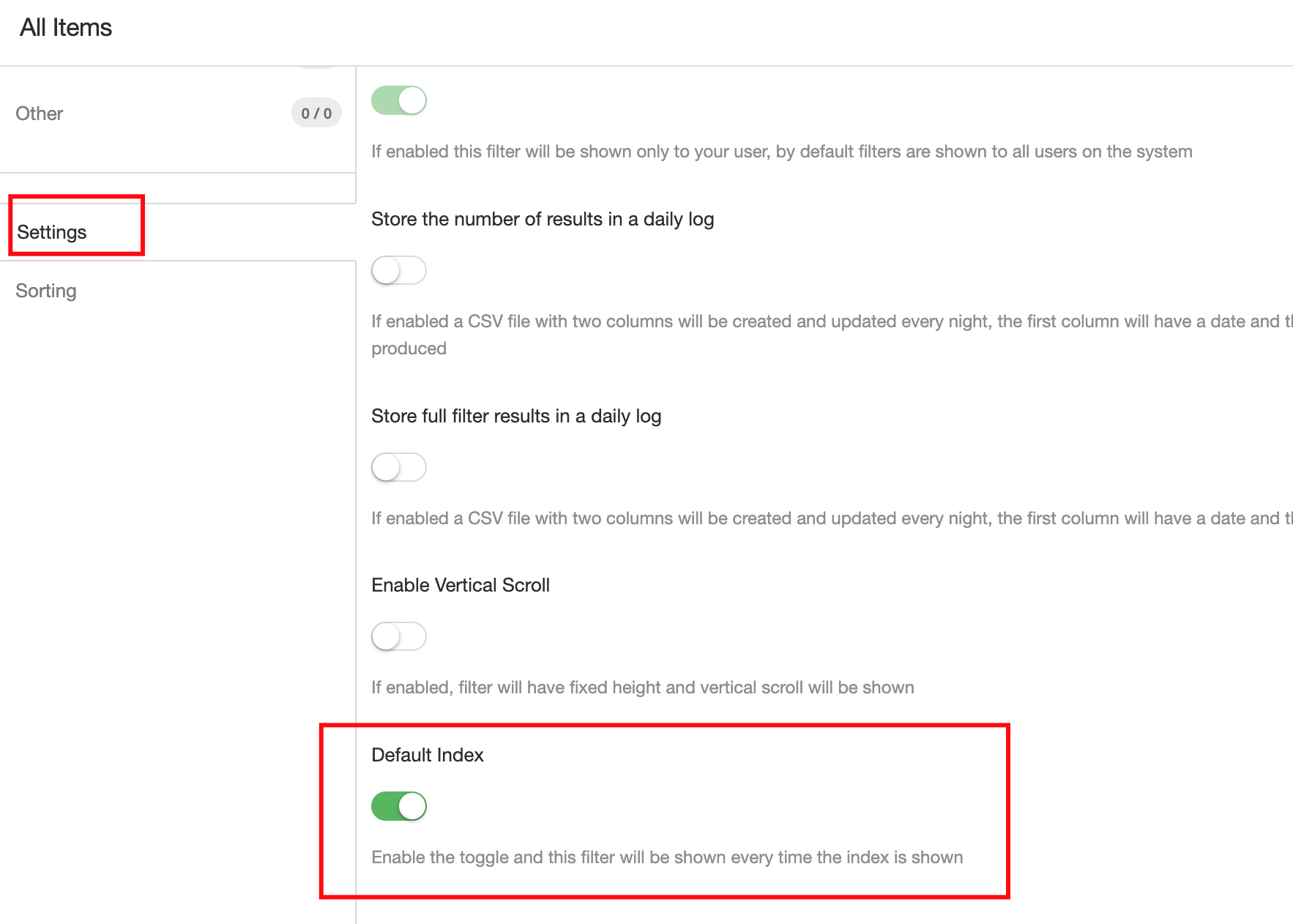 Once your filter has been displayed you can wrap columns and also drag and drop and re-arrange them as you wish. These changes will be saved as you defined them until you change them.

You can choose the number of items you want to see per page

You can search any text on the current page 
You can export the table results as CSV