Episode 1
Introduction to the User Interface
Learn how the basic user interface in eramba works
In this course we will teach you the basic components of the user interface eramba uses. Understanding these key principles is fundamental to make your learning experience simpler.
The key concepts you need to understand are:
Modules & Tabs
Common Menu Features
Common Item Features
Filters
eramba is made of many modules that for the most part talk to each-other, sometimes they must talk to each-other in order to work and sometimes these relationships are optional. The courses in this Learning Platform will explain these relationships in detail.
Modules are listed on the left, when you access a module you will see that sometimes there are multiple tabs on the top. This means the module, a bit like a spreadsheet, is made of multiple tabs where each tab holds specific information.
For example, in the Internal Control Module, you have three tabs:
Internal Controls
Audits: where the audit records that belong to the Internal Controls are stored
Issues: where the issue records that belong to the Internal Controls are stored
Maintenance: where the maintenance records that belong to the Internal Controls are stored
Each tab will have the same functionality, that means:
Common Menu Features
Common Item Features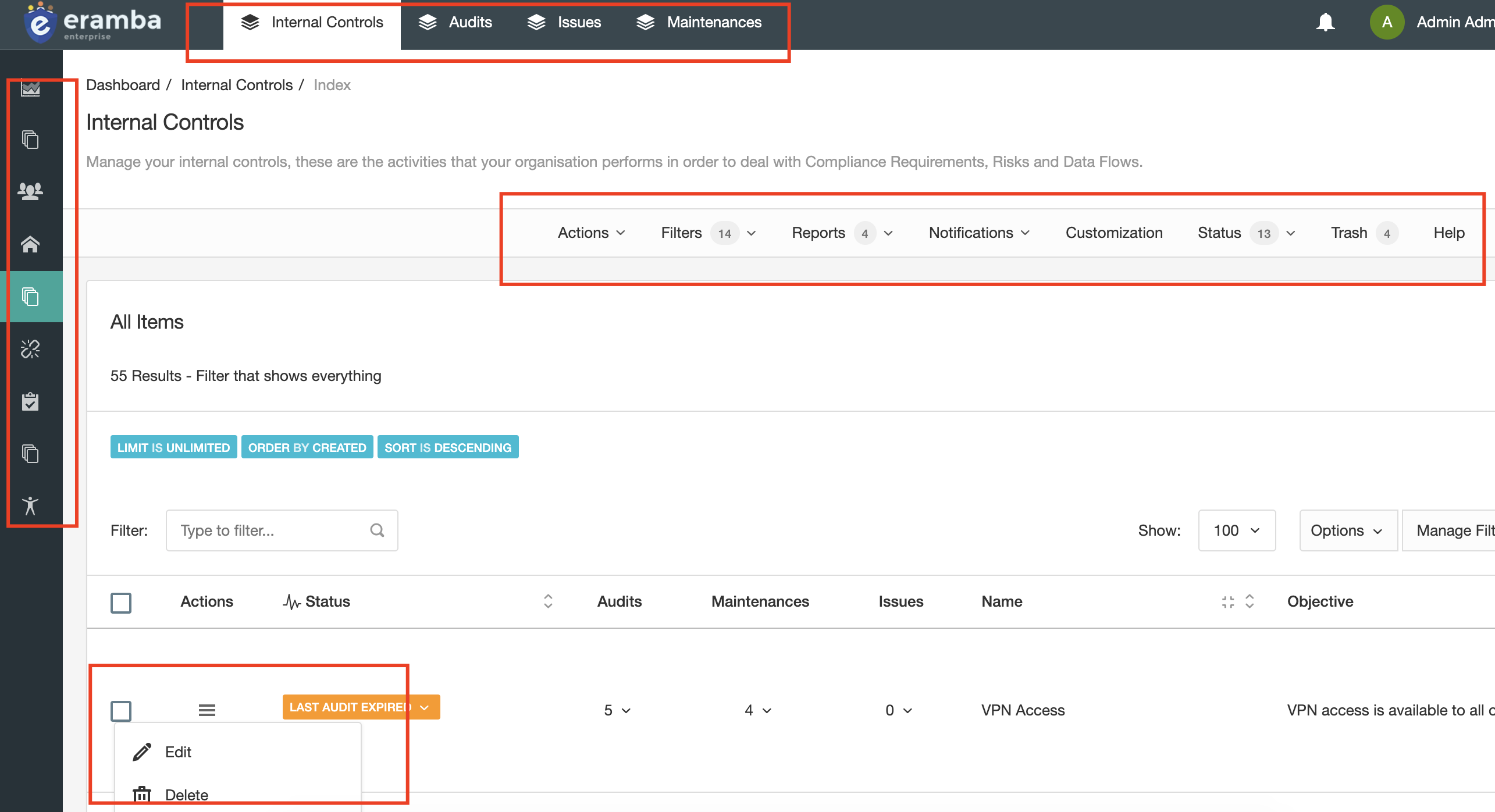 Is very common that on modules where you have more than one tab, these modules are related to each other. For example on the Risk module you have two tabs: Risks and Reviews. This is because a Risk will have one or more reviews asociated. If you are in the Risk module and you want to see all Reviews for any given risk, you can do this in two ways:
Go to the Review tab, make filter that lists all reviews for that Risk
At the Risk tab, click on the number of review icons and click "Show". When you see a number with an "Inverted Coolie Hat" icon is because this is a shortcut to another section. eramba will redirect you to the tab or module with a pre-made filter that will show only these items.


On every module and every tab, you will have a menu on the top that for the most part will have the same options. We call these functions "Common Features" as they apply to every module and tab, they work the same way no matter in which module you are.
For example, in every module and tab you can create notifications that will affect that module/tab. 

The key menu options are:
Actions: where you add things to the module, one by one or CSV
Filters: the way you search data in a module
Notifications: you can configure your own notifications that will affect this module/tab
Reports: create graphical reports
Dynamic Status: create your own labels (status) for every item on the module
Help: explains what relationships exist on the module
API: explains how to query the module using REST calls
These features are explained in detail on this Learning Platform, is very important you understand them well.
Every module will have data (we sometimes call them "items"), for example if you fo to the Risk module every Risk will be an item.
Every item has a menu of options you can click (the three horizontal stripes next to the item).

These options will always be available (unless you restrict them using Access Lists) and they provide the following functionalities:
Edit
Delete: deleting things in eramba does not really delete data, it sends it to the "Trash" from where you can restore data anytime
History: shows the list of changes the item went trough since it was created
Comments & attachments: any item can have comments and attachments, this is the way we share feedback on anything in eramba. Give me an update for this Project Task, Review this Risk, Etc
Reports: you can access to graphical reports that will explain the item in detail
Share: you can share this item with someone that lacks access 
Filters allows you to make questions to eramba and eramba will answer them in a table format you will see in every section. Filters can be saved (you tend to use the same all the time) and you can choose which ones you want to see by default when the module loads. In most modules there is a default (system) filter called "All Items" that is there just to list all items on that module, in addition more filters can be created.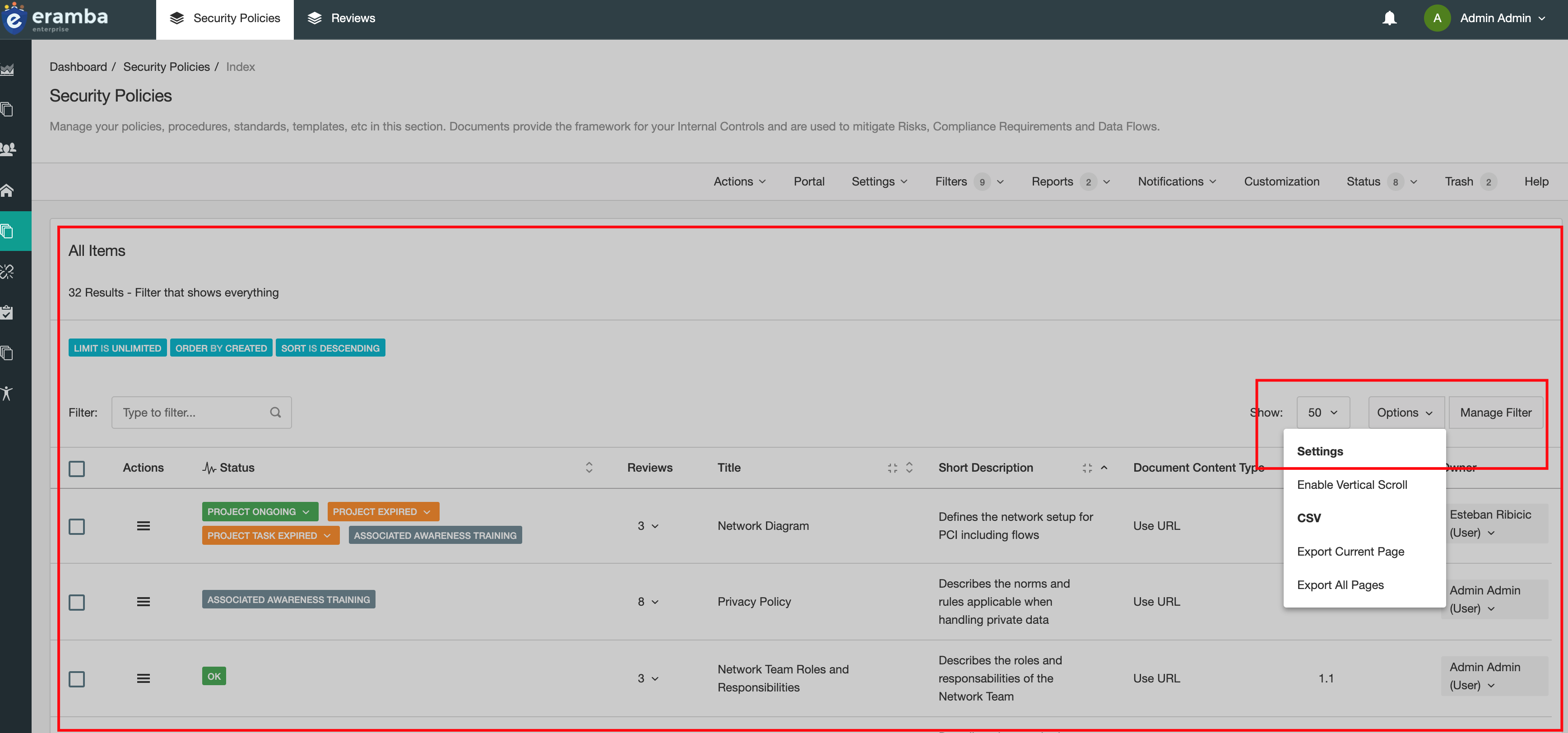 Filters produce a table that can be re-sized, re-ordered and its contents can be exported as CSV. Filters have a course on their own because they are used in many places and have many functionalities built in. Please review the Filters course to learn how to use them in detail.
Every item in eramba (Risk, Control, Policy, Etc) has a "life" of its own. Policies can be obsolete, reviewed, not-reviewed, etc. In eramba you will define statuses (and many come built in by default) and they will always shown in the first column of any filter output. They help you understand how the item is performing. Status have many uses and a dedicated. course on this learning platform exist for them.